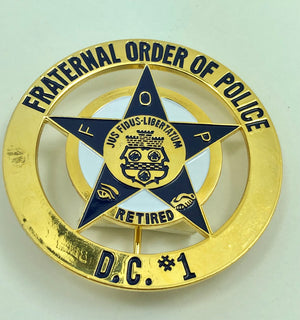 FOP DC #1 RETIRED Medallion Pin
***EXCELLENT COMMEMORATIVE KEEPSAKE*** for retired or retiring Fraternal Order of Police Members

***VERSATILE ACCESSORY*** can be worn a hat, jacket or any of a variety of garments utilizing the pin and catch.

***FOR PLAQUES or SHADOW BOXES*** The pin and catch can be easily removed enabling the user to easily mount
the medallion on a flat surface or background such as a plaque or shadow box.

*****FEATURES The Fraternal Order of Police Emblem*** with the wording "Retired" added at the bottom of
the 5-point star.

Description

This 2 1/2 " diameter circular long-clip medallion pin features a 5-cornered star depicting The National Fraternal Order
of Police symbol. Inscribed in navy blue at the top is "Fraternal Order of Police"; at the bottom "D.C. #1".
The open eye symbol is the eye of vigilance ever looking for danger and protecting all those under our care.
The clasped hands symbol denotes unity and friendship. The hand of friendship is always extended to those in need of
comfort. The medallion has a 1 1/2" safety pin & catch attachment.
The medallion is gold plated and features two hard fired enamel colors.