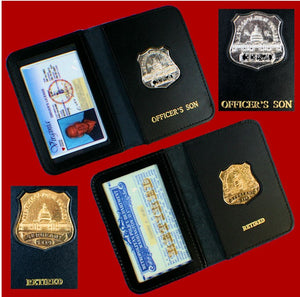 MPD Mini-Badge ID Wallet SET
This bi-fold ID wallet is made to fit the 1 1/2" Officer's or Official's customized mini badge in a recessed opening.  Wallet and mini badge included.

Opposite the badge is an ID window opening that will accommodate a driver's license, retired ID or any other document up to 2 5/8" x 4 1/4".
The leather is embossed in gold under the badge with "Retired", any rank or a rank accompanied with a relationship for presenting to a family member (i.e. Officer's Wife, Detective's Son, Sergeant's Daughter etc.). Please select embossing from our list of available options. Email us if you do not see the relationship you are looking for. "Relationship" options are limited above the rank of Captain. Inquire as to availability.   BADGE Number, RANK, and a photo copy of your police credentials must be sent.  Please email us at bob@fopdc1gift.com   
This special-order item takes 6 - 8  weeks for delivery.
NOTE: We MUST verify your status as an ACTIVE or RETIRED member of the Metropolitan Police Department before shipping this item.  A copy of your active or retired credentials must be emailed to bob@fopdc1gift.com    Please include your RANK and BADGE number.  This special-order item takes 6 - 8  weeks for delivery.