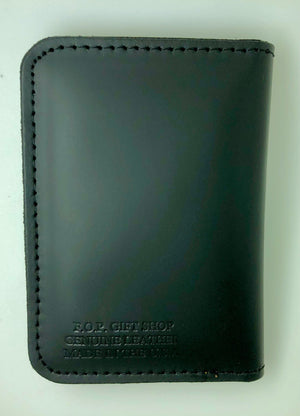 MPDC ID Badge Wallet, w/credit card holder
Genuine leather badge wallet with 1 window for ID and CC holder.  3 credit card slots plus 6 plastic sleeves for other cards.  ID window(2.5"  x 3 ⅝ ") conceals badge until you're ready to show it.  Suede flap protects badge finish.

Recessed badge area fits MPDC shield (specify OFFICER or OFFICIAL or MINI-badge). 
The front is plain.  The back is embossed with "FOP Gift Shop, Genuine Leather, Made in The USA".
 Wallet measures 3/8"H x 2-1/4"L closed